July 1, 2023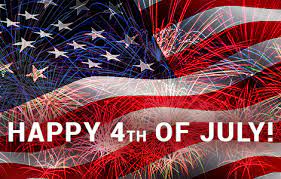 What Does 4th of July Mean To YOU?
I know this is a "no brainer" but we will be observing the 4th of July as the birth date of our great nation. We will resume normal operations on the 5th of July
This holiday is so commercialized and minimized….but if you will take a moment to think back to 1776. We felt we were taxed without representation, not given a voice in government and basically we were the cutting edge generation of England. So much so, after colonizing the US with the first 13 states, we fought a war and won our independence from England ….. and recognized as a seperate, sovern government.
I won't comment on what we've done with this country since that time…but you owe this date 60 seconds of your time to think of where we came from and where we're going as a nation.