August 8, 2021
THE BEST WAY TO CLEAN YOUR WINDOWS – STREAK FREE!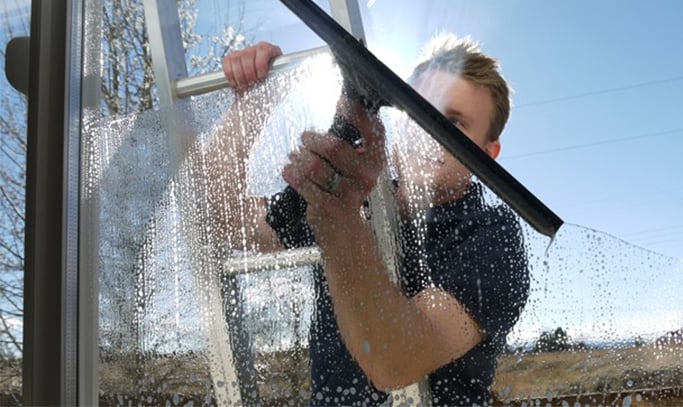 Forget the Windex — If you're looking for the best way to clean your windows, you likely have everything you need in your pantry for a streak-free shine. Granted, there are a lot of great cleaners on the market that can leave your windows sparkling like new. But most people don't like the harsh fumes or toxic chemicals they come in contact with, especially if you have pets or children at home.
Instead, you can use a little hot water, vinegar, and microfiber cloths or newspapers to get rid of window grime and residue with little effort. Next, we'll add 1/3 cup of Ammonia as a degreaser and 2 teaspoons corn starch for making your windows brilliantly shiny. Here's how:
Step 1: Mix the Natural Cleaner
Mix one cup of distilled vinegar with one cup of hot water in a spray bottle, then swirl to mix. The warm water will help to remove stuck-on gunk.
Step 2: Spray the Glass
Spray the window glass with your natural cleaner and let it set for a minute. For extremely dirty windows, you may find it beneficial to prewash to remove as much as possible before using the vinegar spray. Otherwise, you may have to repeat Step 2 to remove all of the dirt.
Step 3: Squeegee Off
Take a squeegee and wipe from the top down. You'll want to wipe the squeegee blade with every downward stroke so that you're not reapplying dirty water to the window.
Step 4: Wipe Dry with Newspaper or Cloth
Newspapers and microfiber towels are best for wiping and drying windows without the may risk of leaving streaks. You can also use paper towels, but some paper towels leave behind lint.
If you notice streaks on your window, it's likely because of leftover residue from commercial products. To get rid of streaks, make a solution of two cups of water, ¼ cup of white vinegar, and ½ teaspoon of dish detergent and follow our "best way to clean your windows" process.