March 12, 2021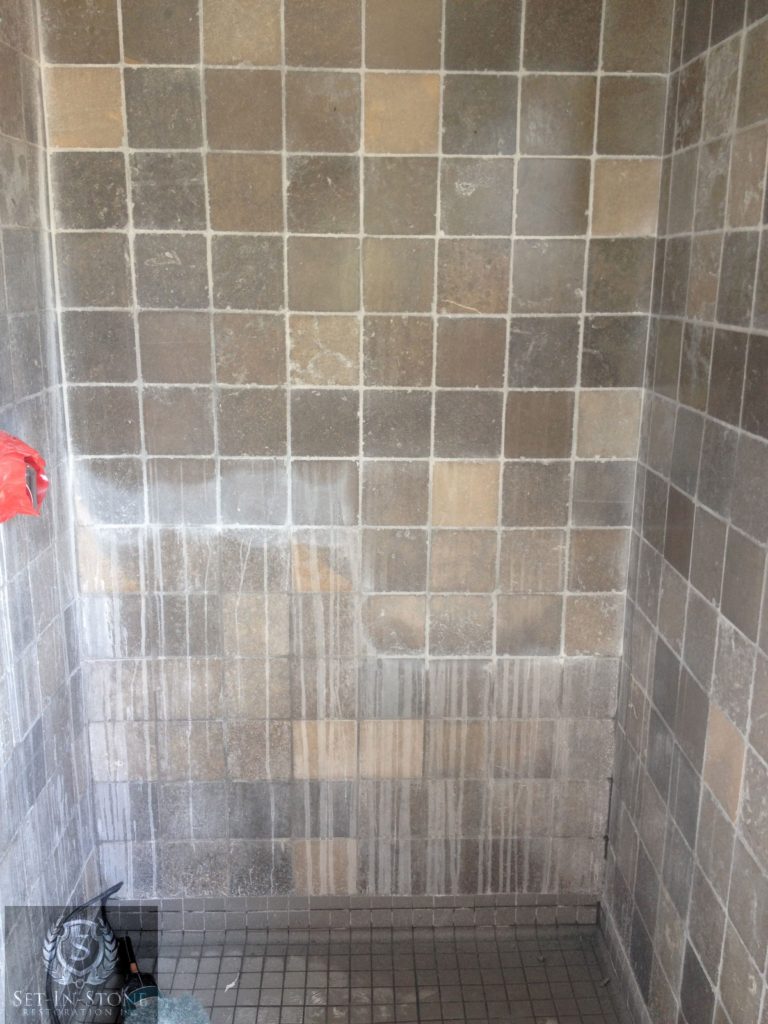 WHAT IS SOAP SCUM? AND HOW TO GET RID OF IT!
When the minerals in water and soap fat mix, you create a very unpleasant reaction called soap scum. This winning, or losing, combination forms a whitish-yellow scaly, crust that lines your shower and tub walls, along with your shower doors. It can also get thicker the longer that it is left, creating that unpleasant bathroom ring. Since it isn't an option not to use soap or shower, best to learn how to clean this difficult mess up.
HOMEMADE SOAP SCUM CLEANER
Cleaning soap scum can be hard to remove despite your best efforts. It can mar your glass, tiles, fixtures, and tub. Not only that, but the longer it sits the harder it can be to clean. Before you reach for commercial cleaners, there are a few tricks that you can try with ingredients in your pantry. For these homemade recipes, you'll need:
Baking soda
White vinegar
Dish soap (Dawn recommended)
Spray bottle
Sponge
Soft bristle brush
Hydrogen peroxide
Bowl
Cloth
HOW TO REMOVE SOAP SCUM FROM SHOWER WALLS
If you are looking to clean your glass, fixtures, shower walls or shower doors, you can try a vinegar spray. Not only will it take away the white dingy glaze, but it can restore your shine.
In a clean spray bottle combine 1 cup of water and 1 cup of vinegar. For an extra kick, add a tablespoon of dish soap.
Give it a good shake and spray down your shower walls, fixtures, and glass doors.
Allow it to sit for about 20 minutes or so.
Using the sponge, scrub in slow circles.
For particularly scaly areas, bust out the soft bristle brush.
Rinse and repeat as necessary.
CLEAN SOAP SCUM IN TUBS AND SINKS
The inside of your fiberglass or porcelain tub and sink can see the brunt of soap scum if you take baths or have really hard water. For these areas, you might want a little more fighting power. In this instance baking soda works great, because it adds a bit of grit to scrub that soap scum. To clean soap scum, you'll need to:
Add a cup of baking soda to about 1/4 to 1/3 cup of vinegar. (You're looking to make a scrubbing paste.)
Let it foam.
Using a sponge, add the paste to the tub or sink, paying special attention to thick soap scum areas.
Allow it to sit on the tub or sink for 20-30 minutes.
Using the brush, scrub the entire area in circular motions.
Rinse and repeat as necessary.
PROFESSIONAL CLEANERS:
Dep Tub & Bath Cleaner is an amazing product available at Home Depot for about $9.00 per gallon. It is acid based, so use with caution. But soap scum will be zapped away after letting it soak for about 10 to 15 minutes. I use this on my client's homes and it cleans soap scum effortlessly!