May 15, 2022
The dirty truth about what might be lurking in your kitchen
"So, You Think Your Home Is Clean?" Series
Part II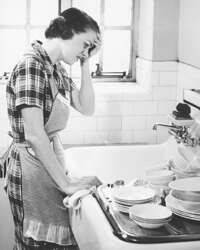 By Rob Lebeck, Owner
SUPERIOR HOUSEKEEPING SERVICE, LLC
"In most cases, it's safer to make a salad on a toilet seat than it is to make one on a cutting board," says Dr. Charles Gerba (a.k.a. Dr. Germ), a microbiologist and professor at the University of Arizona in Tucson."People disinfect their toilet seats all the time, but they don't realize that they really need to pay attention in the kitchen too." Since 1973, he's been studying the hidden bacteria lurking in American homes, and his findings should influence your behavior when it comes to storing a toothbrush (in the medicine cabinet) and how to flush a toilet (lid down). Here, Dr. Germ identifies the top five dirtiest spots in the kitchen and gives advice on how to banish nasty germs.
1. Sponges and Dishcloths
"We did a survey collecting 1,000 sponges and dishcloths in kitchens, and about 10 percent had salmonella. They get wet and stay moist, so bacteria grow like crazy. The most E. coli and other fecal-based bacteria in the average home are on a sponge or cleaning cloth."
DR. GERM'S ADVICE: "Replace dishcloths every week and throw the sponge into the dishwasher or microwave it on high for 30 seconds."
2. Sink
"There's more E. coli in a kitchen sink than in a toilet after you flush it. The sink is a great place for E. coli to live and grow since it's wet and moist. Bacteria feed on the food that people put down the drain and what's left on dishes in the sink. That's probably why dogs drink out of the toilet—because there's less E. coli in it," says Dr. Germ.
DR. GERM'S ADVICE: "Clean the sink basin with a disinfectant product made for the kitchen. Vinegar and lemon juice can clean some bacteria, but they can't clean really bad pathogens, so the Environmental Protection Agency doesn't recommend using them as an alternative."
3. Cutting Board
"In most cases, it's safer to make a salad on a toilet seat than it is to make one on a cutting board. There're 200 times more fecal bacteria from raw meat on the average cutting board in a home than a toilet seat. Most people just rinse their cutting board, but poultry and raw meat can leave behind salmonella and campylobacter." The latter bacteria, which can come from eating raw meat, is one of the most common causes of food-borne illness, according the FDA.
DR. GERM'S ADVICE: "Use one cutting board for meats and another one for vegetables, so you don't get cross-contamination. Boards can be cleaned with a kitchen disinfectant or put it in a dishwasher." As to whether you should buy a wood or plastic cutting board: "We used to always recommend using plastic cutting boards, but wood seems to have antimicrobial resins, so it's a toss-up."
4. Bottom Shelf of the Refrigerator
"When we looked at refrigerators, the bottom shelf tends to have the most bacteria, because moisture and condensation drip down from the upper shelves. People often put produce on a bottom shelf and defrost a meat product above it."
DR. GERM'S ADVICE: "Wipe down the bottom shelf every two or three weeks with a disinfectant cleaner that's made for the kitchen. To avoid cross-contamination, put raw meat on the bottom shelf and tuck raw produce into a drawer away from everything else."
5. Kitchen Countertops
"Kitchen countertops tend to be the dirtiest near the sink area because people wipe them down with sponges and cleaning cloths that have E. coli and other bacteria. The sponges and cloths just spread the germs all over the countertops."
DR. GERM'S ADVICE: "Use a disinfectant kitchen cleaner and finish off by drying the countertop with a disposable paper towel. Paper towels are great because they absorb a lot of the moisture and bacteria and you can just throw them away."
Having your home professionally cleaned, on a regular basis, ensures your home is clean and "up to par". The things you usually "skipped" or "didn't get to" will be done each time we clean, despite what we feel like, or how tired we are. You can be assured that everything on our Checklist has been done. And the best part is? YOU didn't have to do any of it! The kitchen is our highest priority in every house we clean! Your countertops, back splashes, cutting boards, exterior of all appliances – large & small, your kitchen sink, etc. ALL are thoroughly disinfected and cleaned. Even more so in a Deep Cleaning! Not only do you receive the benefits of your home thoroughly cleaned, but think of all the hours of free time you'll have, not having to do the housekeeping!